The PiMSR E-Cell organised a Talk title "Don't be A Dead Fish" by a young entrepreneur, Mr. Ameet Choudhary on 2nd April, 2018 at 3 p.m. Conclave.
Talk on "Don't be A Dead Fish"
Monday
2nd April, 2018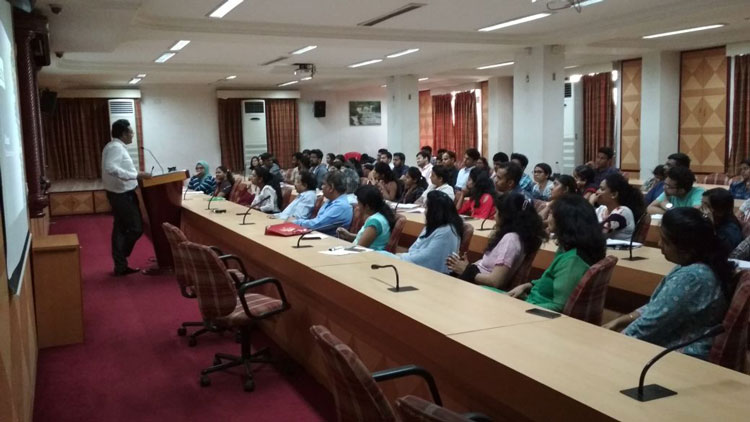 Mr. Ameet Choudhary is the Co-Founder & Chief Launderer at eLaundry, a company that aspires to become a One Point Solution (OPS) for laundry and dry cleaning needs of people. Mr. Chaudhary completed his Masters in Marketing and International Business after his graduation in Pharmaceutical Sciences (B.Pharm.) from University of Pune in 2008. He worked as a Business Development Associate – Corporate Sales at Work Store Limited (formerly known as Staples Future Office Products Ltd. and subsequently as Channel Sales Head – India and for Natural Flooring Products where he was managing a large team of 4 regional managers and 35 executives). Mr. Chaudhary has successfully executed various sales and operations strategies in b2b and b2c spaces. His strong planning and execution skills along with a systematic approach help him to be a great entrepreneur.
Speaking on the occasion he urged students to aspire and dream big and not go with the flow as "dead fish". He spoke about his entrepreneurial journey and gave students a few tips to become an entrepreneur. He spoke about the need to be dynamic and keep the ears and eyes open always to look for opportunities. He urged studnets to list opportunities, become idea hunters and find solutions. Dr. Satish Nair, Director felicitated the guest at the end of the talk.
Ms. Sadaf, an MMS – HR student compered the event.