The Institute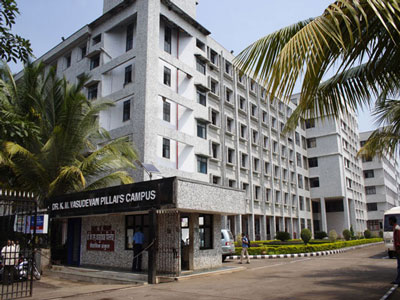 Pillai Institute of Management Studies and Research (PIMSR) is a self-finance educational conglomerate business school affiliated to the University of Mumbai and AICTE. PIMSR is established on 16 acre lush green campus in Panvel, Raigad district, Maharashtra. The institute has an annual intake of approximately 240 students under educational programme; Masters of Management Studies (MMS). The Directorate of Technical Education, Government of Maharashtra, has awarded the institute an 'A' grade. Over the last two decades, the institute has successfully inculcated in its students, the importance of the synergy of sound business theory with practical applications. Due to its strategic location (close to Jawaharlal Nehru Port Trust, Navi Mumbai International Airport) and close proximity to industrial areas of Taloja and Thane, PIMSR has the advantage of being in the vicinity of the big corporates, MSMEs and PSUs thereby enriching the students with frequent industry interactions and workshops organized for the students to hone their business acumen.
Started in 1998, PIMSR had a modest beginning and has now risen to the ranks of one of the most reputed and sought after brand in the Navi Mumbai and Raigad belt. The institute is a part of the Mahatma Education Society founded by Dr. K. M. Vasudevan Pillai, Chairman and CEO, MES, a renowned academician and supported by Dr. Daphne Pillai, Secretary, MES. MES operates over 48 institutions in Mumbai, Navi Mumbai and Raigad district in diverse fields including schools, global academies, engineering colleges, sport academies, and teacher's training institutes, besides management institutes. With over 3000+ strong alumni network, spread across various domains (nationally and internationally) and a dynamic placement team, the institute places utmost importance to industry-academia interface. The state of art infrastructure fosters a professional and technologically adept work set up.
FIFA/CIES Executive Programme
Another feather was added to PIMSR's cap when we started the FIFA/CIES Executive Programme in 2018. FIFA/CIES International University Network was founded in 2004. It brings together universities from all over the world. Its key objective, with the support of its academic partners, is to improve the skills of sports managers at the level of federations, clubs, small sports associations, government and municipal entities.
For that purpose, the network has created one common curriculum of continuing education, the FIFA/CIES Executive Programme in Sports Management, taught at all the partner universities. The objectives of this sports management programme is to give students a comprehensive view of sports management, to organise each year a cycle of special sessions which are delivered by international sports industry experts and to build a network of expertise at both national and international levels.