The Institute Innovation Council of PiMSR organised an Idea Generation Workshop on 1st September, 2023 at the Auditorium of Pillai Campus. The event was attended by 172 students and 10 faculty members. The session was conducted by Dr. Priam Pillai, COO of the Pillai Group of Institutions & Founder of the Pillai Centre of Entrepreneurship. The objective of the session was to urge students to think of new ideas to start businesses while pursuing their studies.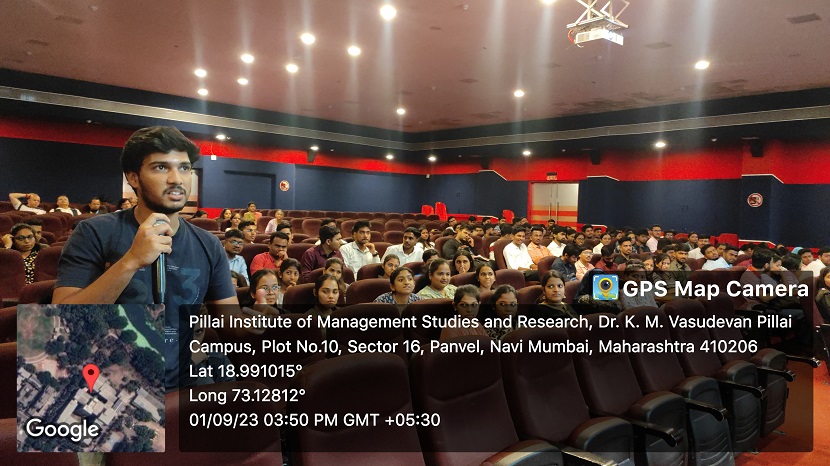 Dr. Priam Pillai graduated with a PhD in mechanical engineering from MIT in 2011. He is currently an associate professor at PCE and Chief Operating Officer of Mahatma Education Society's Pillai Group of Institutions. He has started many new initiatives at MES including launch of Pillai centre of innovation and entrepreneurship, google apps for education and numerous industry interactions and many others.He is the founding partner of the Urban Expansion Observatory, a joint research initiative between Mahatma Education Society and New York University. He is also the director of Valectus Pvt. Limited, a geospatial analytics company, that specializes in providing solutions to small and medium businesses as well as government agencies. The company was the winner of the Maharashtra State Innovation Society's startup award in 2020. He is the winner of numerous awards from the US government as well as private organizations. In 2010, he received an outstanding service award for assisting the Boston police department in the use of thermal cameras in their investigations.
Dr. Pillai started the session by sharing a few tips which are essential to entrepreneurship. He said it's important to keep track of industry trends so that the business can be started at the right time. He encouraged students to learn new skills like coding etc and develop new hobbies. He also spoke about the importance of collaboration with other disciplines.
He then asked students to think about problems that exist in their day to day lives. Interested students were given an opportunity to speak about their ideas. The interactive session saw students engage with him, gaining insights into the deeper aspects of the problems. He concluded the session by urging students to think of solutions to their ideas. The session concluded with a vote of thanks.