Event 1: 1st September, 2017
The Book Club, under the aegis of Co-curricular committee organized a Newspaper analysis session on 1st September, 2017. The session was conducted by our Director for both MMS Second year and MMS First Year. The special edition GST issue of the Business line newspaper was distributed by the Book Club to all the students. An article from the economic times on the lessons of the great recession ten years on – Greed Drowning Out Fear by eminent journalist Swaminathan S. Anklesarla Aiyar was also analyzed to determine the impact of financial crisis on world economy.
Book Club Activity
Friday, 1st and 8th September, 2017
Event 2: 8th September, 2017
The Book Club organized an event – The Literati on 8th September,2017. The event consisted of three rounds and was a test of general and book based knowledge. The event was a huge success with a large participation from both MMS First year and MMS Second year students participating in the event. The winner of the event was Ms. Progna Banarjee from MMS First Year and the First runner up was Mr. Akshay Cherukat from MMS Finance. The winners were awarded prizes by our Director Dr. Satish Nair and by Dr. Celina Joy, who judged the event.
Book Club Activity - Event 2: 8th September, 2017
Book Club Activity - Event 2: 8th September, 2017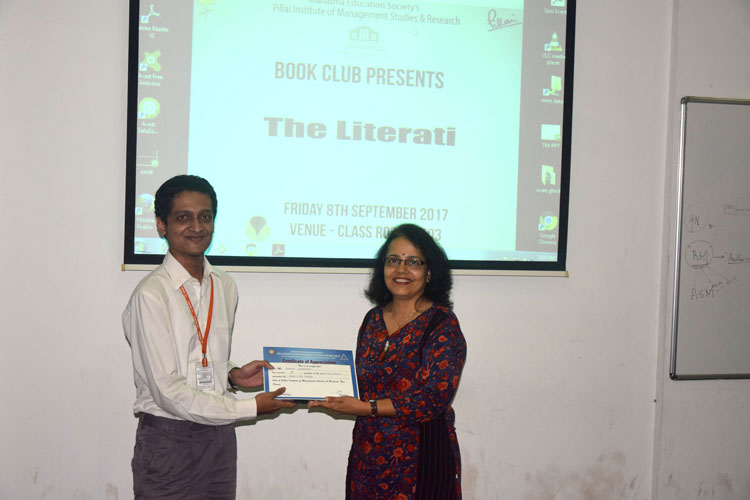 Mr. Akshay Cherukat - First Runner Up
First Prize - Ms. Progna Banarjee