The Research and Publication Committee of PiMSR organized a Faculty Development Programme on the topic "How to Handle and Manage Millennial Students" on 8th January, 2022 from 3.30 p.m. to 5.00 p.m. The resource person was Dr. Rajen Mehrotra, Consultant and Former ILO official. 78 faculty members from various management institutes all over India participated in the FDP.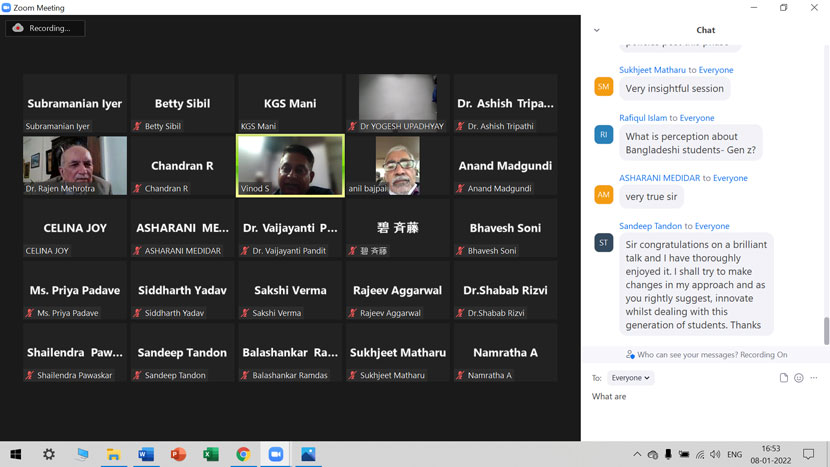 Dr. Rajen Mehrotra is an Electrical and Mechanical Engineer with a Masters and Ph.D. Degree in Management from the University of Mumbai. He has excelled in his career in academics [NITIE], in industry [Mukand, Novartis] and in ILO as a Senior Specialist on Employer's activities for South Asia. He is a highly respected professional who is respected for his knowledge, integrity and his contribution to the Human Resource and General Management. He is involved as a Faculty in various IIMs across teaching them Human Resources and Employee Relations. He is a known figure in corporate and his impeccable knowledge is widely accepted by Senior Leadership Teams in various organizations across India.
Dr. Mehrotra began the session by paying homage to Dr Radhakrishnan and all the teachers and giving a short history of the observance of teachers day in India and abroad. He then shared his views on some of the reasons for students joining the management course and spoke about their expectations after completion of the course. Dr. Rajen spoke about the efforts students should take to build a great career and shared the various options available for students on course completion. This was followed by his views on the challenges faced by millennials namely, the highly competitive exams to get into good management institutes, the high tuition fees, the high scores expected and the competition. About 10 million new entrants join the workforce each year and the increase in the number of women joining the workforce have made the workplace very competitive. He spoke about the increasing tendency of students to find jobs in the service sector. He spoke about the strengths of millennials in willing to take risks, take jobs that allow them to multitask and help them to grow within the organization. They are tech savvy, active on social media and willing to take risks. Dr. Rajen concluded by saying that it is up to teachers and faculty to fully understand the mentality of the millenials and mould them accordingly. It is important to build their competencies to take responsible roles and give them meaningful work in the form of assignments, projects, role play, discussion and the like so that learning can be truly enriching. The FDP was organized by members of the RPC, Dr. Betty Sibil, Dr. Subaramnaim Iyer and Dr. Celina Joy.