The HR Club of Pillai Institute of Management Studies & Research organised a Webinar on "Coping with Change During the Covid Crisis" on Saturday, 6th February, 2021 at 6.30 p.m. The panelists were Ms. Kejal Thakkar, Chief Manager – HR, Piramal Enterprises Ltd., Ms. Suchita Shetty, Manager – People Strategy, Indofil Industries Limited and Ms. Salomi Sam, Channel Lead – Corporate Talent Acquisition Group, Tata Consultancy Services. The session was attended by HR students of PiMSR and PHiMSR. The webinar was also attended by Dr. Salma Prabhu and Mr. Rajesh Prabhu of Salma Prabhu's Institute of Counselling (SPIC) and their international interns, Samira Alouache from France and Tafadzwa Dave from Zimbabwe.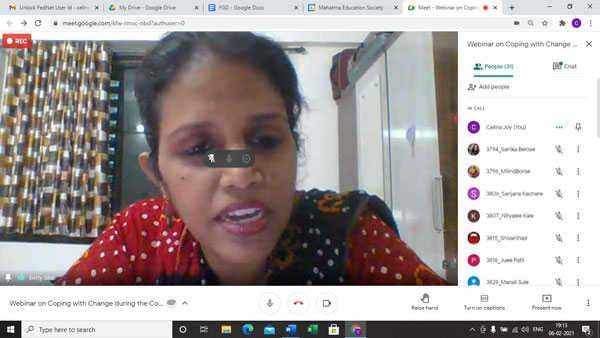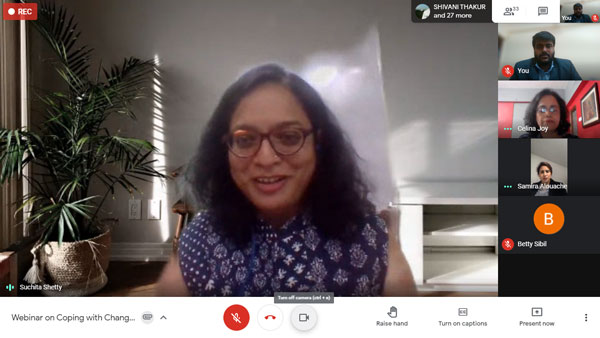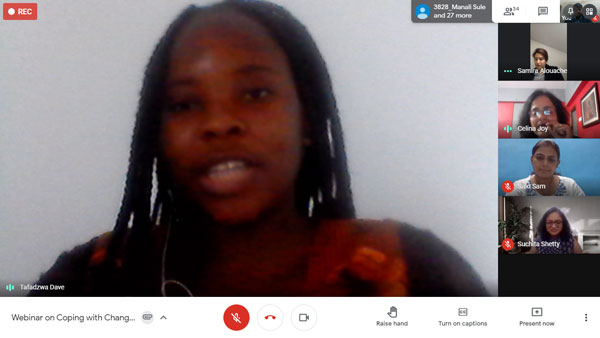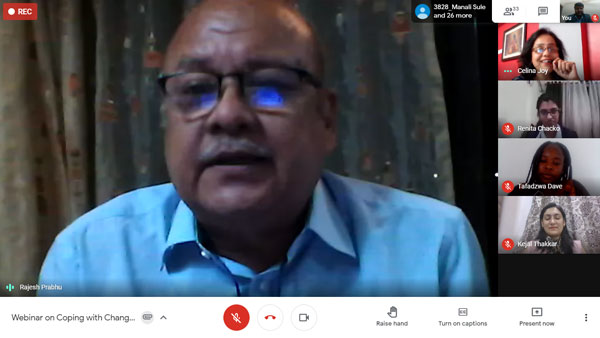 The first panelist was Ms. Kejal Thakkar is the Chief Manager – HR at Piramal Enterprises. She joined Piramal in 2019 and currently manages the entire gamut of Sales HR for 2000 employees. Prior to this, she worked as Sr. Manager – HR, at Glenmark Pharmaceuticals in the role of an HR Business partner supporting 3 sales divisions with an approximate manpower of 1000 employees. Ms. Thakkar has also handled End to End HR Activities, Recruiting, Onboarding. Etc and conducted coaching and skill development for 2nd line managers and performance enhancement programs for non-performers. She has also worked with Abbott Healthcare Pvt. Ltd., Glaxo Smith Kline Pharmaceuticals Ltd. and Fresenius Kabi India Pvt. Ltd. in the past. She holds a PGDBM in HR and has completed Master in Labour Laws & Labour Welfare. She also has numerous certifications to her credit.
The second panelist was Ms. Suchita Shetty. Ms. Shetty has a Diploma in Business Administration from I.C.F.A.I. University and Master's in human resource development management from Welingkar Institute of Management. She is a result oriented professional with 14 years of experience in Human Resource Management, Talent acquisition (India and International), Performance Management, HR ERP's, Training & Development and Employee Engagement & Relations. She is presently associated with Indofil Industries Limited as Manager – People Strategy. Prior to joining Indofil, worked for Hindustan Unilever Ltd. for four and a half years. She is an effective communicator with excellent relationship building & interpersonal skills and strong analytical, problem solving & organisational abilities.
The third panelist was Ms. Salomi Sam. Ms. Sam has a graduation degree in Psychology and being intrigued by the application of psychology in organizations was drawn to an MBA in Human Resources, which she completed from MIT School of Management, Pune. She was the only student selected during campus interviews to join TCS. She has worked in the areas of employee engagement, having taken a lead role in handling employees from various geographies.She recently joined the Talent Acquisition Group as Channel Lead (India) – Employee Referral Program.Her current responsibilities include planning and execution of various initiatives to amplify the Referral program for the organization.
The webinar was moderated by Dr. Celina Joy and Dr. Betty Sibil. The webinar covered the impact of the covid crisis on the business and the people centric issues faced by each of these organisations. The panelists also spoke about the employee engagement and care practices that were quickly adopted by these organisations to mitigate the negative impact of the crisis on mental and physical health of the employees. The webinar ended with the panelists talking about the future readiness of organisations to meet such crises in future and the new innovative ways of working in the future.
This webinar is the first of a series of similar seminars that is being planned as a part of the MoU signed by PiMSR and SPIC. The webinar ended with the vote of thanks proposed by Mr. Rajesh Prabhu, Co-founder of SPIC. The webinar was hosted by HR students, Ms. Renita Chacko and Mr. Shajo Raju of PiMSR.