The IIC of Pillai Institute of Management Studies and Research organised a Session on "Business Model Canvas" for the management students on Monday, 28th August, 2023 as a part of the Mindset Orientation Programme. The objective of the session was to showcase a Business Model Canvas by using the tree of entrepreneurship. 112 students and 5 faculty members attended the event.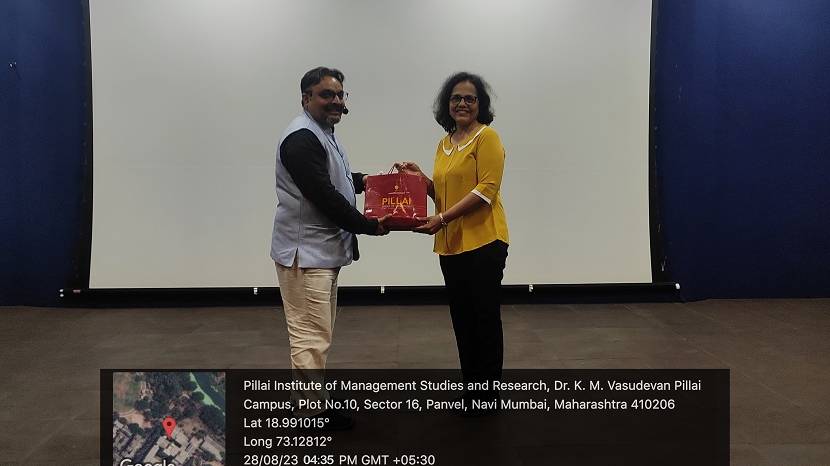 The session was conducted by CA Vishal Thakkar, CEO of Simplifynance, author, trainer, consultant and a serial entrepreneur. He has written books which are published by CNBC TV18 and are featured in the best sellers list. He has 10+ years of experience in conducting corporate training programs and he specializes in the finance domain. He works hand in hand with top management to provide financial strategies to make business more profitable and cash-positive. He provides services in the areas of financial advisory, executive coaching, financial consulting and technical writing. He is also an adjunct faculty with S P Jain, Dubai, Sydney, Singapore and Mumbai. He has been a great supporter of Pillai Institute and has been associated with us for the past decade.
The Session on "Business Model Canvas" left an indelible mark, captivating the students with its profound impact. He explained the various elements of a tree like the seed, manure & water, leaves, branches and fruits and connected it with the journey that a bussing entrepreneur has to take to be successful in his business. Mr. Vishal Thakkar emerged as a reservoir of knowledge and accomplishments, radiating wisdom and much more. Beyond merely explaining the assigned topic, he graciously shared his personal journey, experiences, and profound insights, crafting an entrancing narrative of self-transformation. His message resonated powerfully – regardless of our chosen paths, be it Finance, HR, or others, the potential for diverse careers is boundless, contingent on unwavering dedication. This engagement was not confined to the session's duration; he extended an altruistic hand, offering guidance and support to aspiring student entrepreneurs with resounding startup ambitions. The event concluded with heartfelt gratitude and felicitation of the guest.