The Research and Publication Committee of PiMSR organized a Research Workshop titled "Ethics in Academic Research and Literature Review" for MMS Semester 4 students on Tuesday, 25th January, 2022 at 11.30 a.m. The students of MMS have to complete three research projects in Semester 4, namely Projects on General Management, Functional Management and Social Relevance. The objective of this workshop was to enhance knowledge on research writing, ethical aspects of research and literature review. The resource person was Dr. Reni Francis, Principal – Pillai College of Education and Research, Chembur.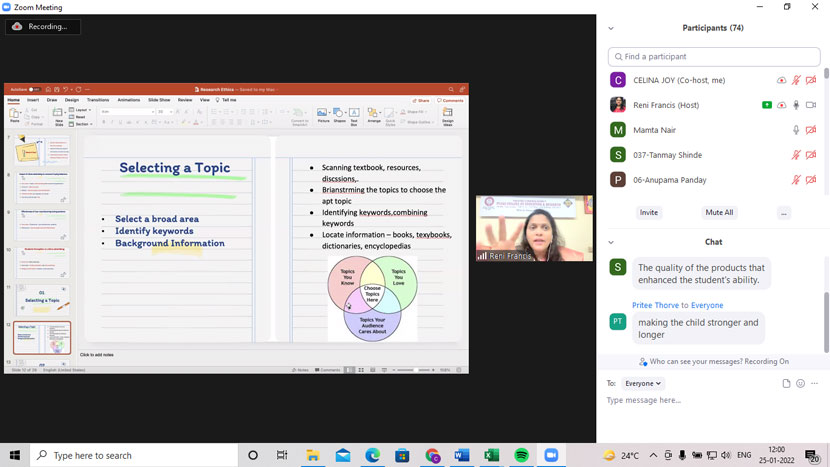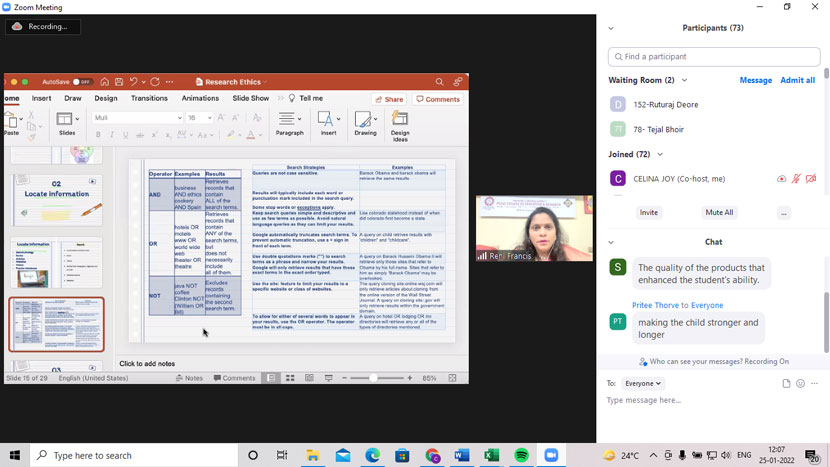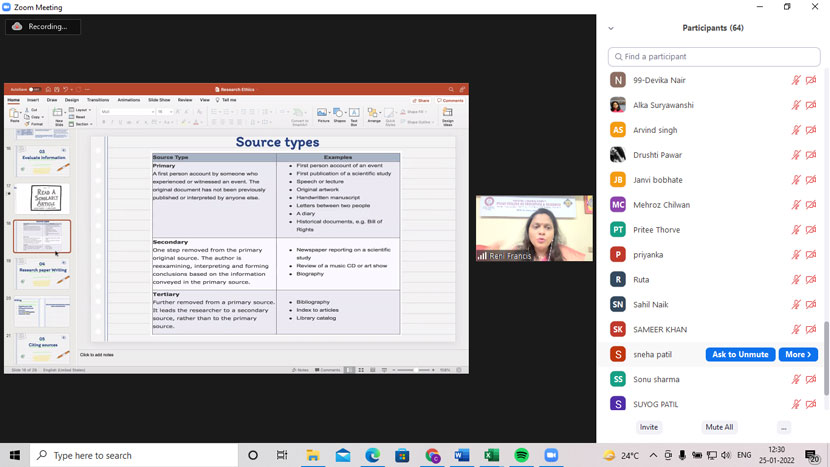 Dr. Reni Francis has a Ph.D. in Education from University of Mumbai with a varied experience of more than 19 years in facilitating learning with school students, teachers and teacher- educators in India and Kuwait. She is a member of the University of Mumbai's Board of Studies (Education) and Syllabus Revision Committee of Credit Based Choice System. Dr. Francis is a recognized Ph.D. Guide (Education) of University of Mumbai. She has authored 25 books – 6 International and 19 National. She has presented several research papers in various national and international conferences and is on the Editorial board of a few research journals. She has two approved Australian patents and has filed one German and two Indian patents. Dr. Francis is proficient in conducting training workshops for teachers, students, parents and has also conducted sessions towards Community outreach programs.
Dr. Francis started the session by sharing information on how to select a topic for research followed by collecting information on the topic. She shared various resources that may be used to collect information. Once the information was collected, the next step was to evaluate the information. She shared various tips and tests like CRAAP that can enable researchers to filter out the correct information. Dr. Francis then shared important tips on writing and paraphrasing data to avoid plagiarism. She also spoke about referencing and how to write them correctly for research. It was a wonderful and enriching session and studnets had a lot of valuable takeaways from this session. The session was hosted by MMS students, Ms. Ayusha Thakur and Ms. Drishti Pawar.